Moscow Airport overview
Sheremetyevo International Airport (Russian: Международный аэропорт Шереметьево, IPA: [ʂɨrʲɪˈmʲetʲjɪvə]) (IATA: SVO, ICAO: UUEE) is an international airport located in Molzhaninovsky District, Northern Administrative Okrug, Moscow, Russia, 29 km (18 mi) northwest of central Moscow. It is a hub for passenger operations of the Russian international airline Aeroflot, and is one of the three major airports that serve Moscow, along with Domodedovo International Airport and Vnukovo International Airport (the IATA city code for Sheremetyevo, Domodedovo, and Vnukovo is MOW). The airport serves a number of international airlines, including Air France, KLM, Korean Air, Hainan Airlines, Alitalia, Air China and Flydubai. In 2017, the airport handled 40,093,000 passengers and 308,090 aircraft movements, making the airport the 50th busiest airport in the world, the busiest in the Russian Federation and former USSR.
Public transport to city center of Moscow
The public transport station is right in front of airport terminal.
Day route:
949
2
Estimated duration 1 hour 17 mins.
949
2 stops to Rechnoy vokzal Station (alighting area) ( 29 mins - 16.6 km )
2
9 stops to Teatral'naya ( 23 mins - 14.7 km )
This route will take you to Red Square in Moscow city center.
Night route:
N1
Estimated duration 2 hours 0 mins.
N1
49 stops to Manezhnaya Square ( 1 hour 24 mins - 31.8 km )
This route will take you to Red Square in Moscow city center.
Hotels in nearby areas
Radisson Blu Hotel Moscow Sheremetyevo Airport
Moscow
0.1 km from SVO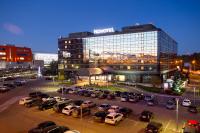 Novotel Sheremetyevo Airport
Moscow
0.3 km from SVO
Transfers from Sheremetyevo International Airport
We are sorry but We are not able to recommend any private SVO transfer service right now.
Airport ranking
40,092,806 passengers in 2017.
50.
bussiest airport in the World
11.
bussiest airport in Europe
1.
bussiest airport in Russia
Airport details
16°C
Actual time
06:16
Actual date
2018/08/15
IATA code
SVO