Palma de Mallorca Airport overview
Palma de Mallorca Airport is only international airport on Mallorca island. It is the third largest airport in Spain and durring summer it is one of bussiest airports in Europe.
Airport is located on the west coast of island and it is remoted 8km east of Palma de Mallorca city center.
Transfers from Palma De Mallorca Airport
Public transport to city center of Palma de Mallorca
The public transport station is right in front of airport terminal.
Hotels in nearby areas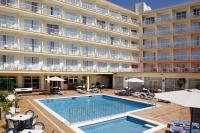 Hotel Roc Linda
Palma de Mallorca
1.6 km from PMI
Airport ranking
27,970,655 passengers in 2017.
74.
bussiest airport in the World
17.
bussiest airport in Europe
3.
bussiest airport in Spain
Airport details