Oslo Airport overview
Oslo Airport (Norwegian: Oslo Lufthavn; IATA: OSL, ICAO: ENGM), alternatively spelt as Oslo Gardermoen Airport or simply Gardermoen Airport is the main international airport serving Oslo, Norway, the capital and most populous city in the country. A hub for Norwegian Air Shuttle, Scandinavian Airlines and Widerøe, it connects to 26 domestic and 155 international destinations. 28.6 million passengers traveled through the airport in 2019, making it the second-busiest airport in the Nordic countries. The airport is located 19 nautical miles (35 km; 22 mi) northeast of Oslo, at Gardermoen in the municipality of Ullensaker, in Viken county. It has two parallel roughly north–south runways measuring 3,600 metres (11,811 ft) and 2,950 metres (9,678 ft) and 71 aircraft stands, of which 50 have jet bridges. The airport is connected to the city center by the high-speed railway Gardermoen Line served by mainline trains and Flytoget. The percentage of passengers using public transport to get to and from the airport is one of the highest in the world at nearly 70%. The ground facilities are owned by Oslo Lufthavn AS, a subsidiary of the state-owned Avinor. Also at the premises is Gardermoen Air Station, operated by the Royal Norwegian Air Force. An expansion with a new terminal building and a third pier opened in late April 2017. Oslo is also served by the low-fare airport Torp in Sandefjord, situated 119 km to the south of downtown Oslo. The airport location was first used by the Norwegian Army from 1940, with the first military airport facilities being built during the 1940s. The airport remained a secondary reserve and airport for chartered flights to Oslo Airport, Fornebu until 8 October 1998, when the latter was closed and an all-new Oslo Airport opened at Gardermoen, costing 11.4 billion Norwegian kroner (NOK).
Public transport to city center of Oslo from Airport
The public transport station is right in front of airport terminal.
Day route from airport:
R10
Estimated duration 39 mins.
R10
3 stops to Nationaltheatret stasjon ( 27 mins - 49.4 km )
This route will take you to Stortinget in Oslo city center.
Night route from airport:
R11
Estimated duration 39 mins.
R11
3 stops to Nationaltheatret stasjon ( 27 mins - 49.4 km )
This route will take you to Stortinget in Oslo city center.
Hotels in nearby areas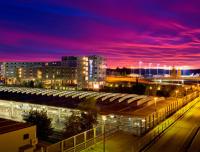 Radisson Blu Airport Hotel, Oslo Gardermoen
Oslo
0.3 km from OSL
Park Inn by Radisson Oslo Airport
Oslo
0.4 km from OSL
Transfers from Oslo Airport, Gardermoen to the city
We are sorry but We are not able to recommend any private OSL transfer service right now.
Airport ranking
27,482,315 passengers in 2017.
76.
bussiest airport in the World
19.
bussiest airport in Europe
1.
bussiest airport in Norway
Airport details