Nantes Airport overview
Nantes Atlantique Airport is international airport serving city of Nantes on west of France. Airport is located in Bouguenais commune, 10 km of Nantes city center.
Airport has one terminal, which is divided into four halls.
Transfers from Nantes Atlantique Airport
Public transport to city center of Nantes
Bus
Navette Aéroport bus connects Airport with Nantes city center, or Nantes train station. Bus departure every 20 minutes between 5:30 and 22:30 7 days a week. Ticket price is 9?.
Hotels in nearby areas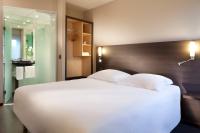 Escale Oceania Nantes
Nantes
0.4 km from NTE
Hôtel Oceania Nantes
Nantes
0.3 km from NTE
Airport ranking
5,489,899 passengers in 2017.
302.
bussiest airport in the World
90.
bussiest airport in Europe
8.
bussiest airport in France
Airport details