Sao Paulo Airport overview
São Paulo/Guarulhos–Governador André Franco Montoro International Airport (IATA: GRU, ICAO: SBGR), often referred to as GRU Airport, or simply GRU, is the primary international airport serving São Paulo. It is popularly known locally as either Cumbica Airport, after the district where it is located and the Brazilian Air Force base that still exists at the airport complex, or Guarulhos Airport, after the municipality of Guarulhos, in the São Paulo metropolitan area, where it is located. Since November 28, 2001 the airport has been named after André Franco Montoro (1916–1999), former Governor of São Paulo state. The airport was rebranded as GRU Airport in 2012.In Brazil the airport was ranked first in terms of transported passengers, aircraft operations, and cargo handled in 2012, placing it as the second busiest airport in Latin America by passenger traffic (36,596,326 in 2016) after Mexico City International Airport. Guarulhos has slot restrictions, operating with a maximum of 45 operations/hour and being one of the five airports with such restrictions in Brazil (the others are São Paulo-Congonhas, Brasília, Belo Horizonte-Pampulha and Rio de Janeiro-Santos Dumont).Since 2012, the airport has been operated by a consortium composed of Invepar S/A, Airports Company South Africa, and Infraero. Some of its facilities are shared with the São Paulo Air Force Base of the Brazilian Air Force.
Public transport to city center of Sao Paulo
The public transport station is right in front of airport terminal.
Prices:
Inner city public transportation in Sao Paulo costs 4.00 BRL per one way.
Taking taxi from São Paulo–Guarulhos International Airport to Sao Paulo city center will charge you around 110.00 BRL.
Hotels in nearby areas
Hotel Matiz Guarulhos Aeroporto
Sao Paulo
2.0 km from GRU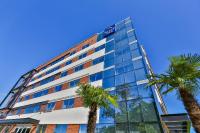 Sleep Inn Guarulhos - São Paulo
Sao Paulo
1.9 km from GRU
Transfers from São Paulo–Guarulhos International Airport
We are sorry but We are not able to recommend any private GRU transfer service right now.
Airport ranking
37,774,000 passengers in 2017.
54.
bussiest airport in the World
2.
bussiest airport in Latin America
1.
bussiest airport in Brazil
Airport details