Brasilia Airport overview
Brasília International Airport is connection to the capital city of Brazil - Brasília. Airport is located 11 km from the downtown of Brasília.
Public transport to city center of Brasilia
The public transport station is right in front of airport terminal.
Hotels in nearby areas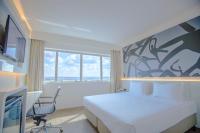 Ibis Styles Brasília Aeroporto
Brasilia
0.6 km from BSB
Transfers from Presidente Juscelino Kubistschek International Airport
We are sorry but We are not able to recommend any private BSB transfer service right now.
Airport ranking
16,912,680 passengers in 2017.
141.
bussiest airport in the World
8.
bussiest airport in Latin America
3.
bussiest airport in Brazil
Airport details