Stockholm Airport overview
Stockholm Arlanda Airport (IATA: ARN, ICAO: ESSA) is an international airport located in the Sigtuna Municipality of Sweden, near the town of Märsta, 37 kilometres (23 mi) north of Stockholm and nearly 40 kilometres (25 mi) south-east of Uppsala. The airport is located within Stockholm County and the province of Uppland. It is the largest airport in Sweden and the third-largest airport in the Nordic countries. The airport is the major gateway to international air travel for large parts of Sweden. Arlanda Airport was used by close to 27 million passengers in 2017, with 21.2 million international passengers and 5.5 million domestic.Stockholm Arlanda Airport is the larger of Stockholm's two airports. The other, Stockholm–Bromma, is located north-west of the city's centre, but can only be used by a small number of smaller aircraft. The smaller airports in Nyköping and Västerås are both located around 100 kilometres (60 mi) away from the Swedish capital. Stockholm Arlanda serves as a major hub for Scandinavian Airlines and Norwegian Air Shuttle.
Transfers from Stockholm Arlanda Airport
Public transport to city center of Stockholm
The public transport station is right in front of airport terminal.
Hotels in nearby areas
Radisson Blu SkyCity Hotel, Stockholm-Arlanda
Stockholm
0.0 km from ARN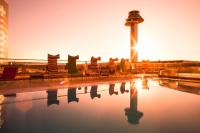 Clarion Hotel Arlanda Airport
Stockholm
0.0 km from ARN
Airport ranking
26,642,034 passengers in 2017.
78.
bussiest airport in the World
21.
bussiest airport in Europe
1.
bussiest airport in Sweden
Airport details